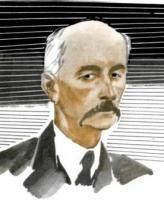 Andrei Jakovlevich Chajkovsky (May 15, 1857 – June 2, 1935) – an Ukrainian writer.
Andrei was born in Sambir (now the district center of Lviv region) in the family of a small gentry, an official. In 1869 – 1877 he studied at the Sambir gymnasium. In 1877 he entered Lviv University (philosophical, then – law faculties). In 1882 he served in the Austro-Hungarian Army, participated in the Bosnia war. In 1884 he completed a judicial examination and held a judicial practice in Sambir. In 1886 he moved to Berezhany, where in 1890 he opened his own law practice.
In 1914 he returned to Sambir, where in 1918 – 1919 he was the county commissioner of the Western Ukrainian People's Republic. From 1919 he lived in Kolomyia, where he died in 1935, buried in a city cemetery.
A. Chajkovsky's writing career began in 1888. He acted almost exclusively as a prose writer. The main works of the first period (1888 – 1910) фre devoted to the life of the small Galician gentry – the social stratum from which he himself came and whose life he knew very well as a lawyer. In the second period (1910 – 1935), the main works devoted to the past of Ukraine in the Cossack era.
During the life of A. Chajkovsky his works were very popular, but mainly in Galicia. In Ukraine, under Russian rule, he was almost unknown, but for the Moscow Bolshevik authorities, ру was forbidden. The consequences of this prohibition are not completely overcome ever today: the abundant creative heritage of the writer is reissued only partially, there is no complete collection of his works, to which he long deserved.
The portrait of A. Ja. Chajkovsky, which we present, was drawn by Lviv artist Ljubomir Medvid for the book: Chajkovsky A. The tales. – Lviv: Kamenjar, 1989
M. Zh., September 23, 2018