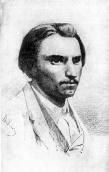 Stepan Rudansky (1834 – 1873) – Ukrainian poet, translator, folklorist. He was born in the village Homutyntsi (now Kalynivka district of Vinnytsia region) in the priest's family, attended the Shargorod church school, Kamenetz-Podolsk theological seminary, Medico–surgical academy in St. Petersburg.
Having graduated, Rudansky since 1861 and the end of his short life worked as a doctor in Yalta (Crimea).
Rudansky began writing poetry while studying in Kamenetz-Podolsk. His poetic work was not long, the vast majority of poems written between 1851 and 1861 years. While in Yalta Rudansky mainly dealt with poetic translations, and in the last years of his life away from creative activity.
Only few of his poems were published in magazines during Rudansky's life. Repeated attempts of Rudansky to publish collection of his poetry as books have been failures due to anti-ukrainian censorship policy of the Russian government and material needs of the author.
Rudansky's works were published and gained readers' recognition thanks to the efforts of the next generation of Ukrainian – Olena Pchilka, Ivan Franko, Agatangel Krymsky. Some of his works, including song of "Blow the wind to the Ukraine" got the highest mark – they moved to the nation and spread like folk songs.
M.Zh.