Olga Haryshyna was born on July 23, 1987 in Kyiv, Ukraine.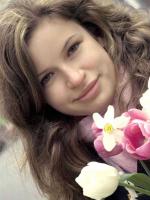 In 1994-2004 was studying at Kyiv Secondary School № 227, Chisinau Theoretic Lyceum named after Mykhailo Kotsyubinskiy, Kyiv Humanitarian Secondary School № 296 and Minsk Humanitarian Gymnasium №7 with the advance studying of foreign languages (English, German and Russian).
In 2004-2005 Olga Haryshyna was student of the International Relations Faculty of the Byelorussian State University and in 2005-2009 studied at Institute of International Relations of Kyiv National University named after Taras Shevchenko (specialization – international law). She graduated successfully the University with the specialization – International Law Attorney, English Language Interpreter.
Since 2009 Olga Haryshyna has been in diplomatic service working as attaché at the Ministry for Foreign Affairs of Ukraine.
In 2010 the first children book "Rozmalyi Kazka" was edited and presented in Chisinau at the public TV channel "Moldova 1".
In 2011 the second book of Olga Haryshyna "22:23" was published.
Olga Haryshyna knows English, German, Russian and Ukrainian languages.
Hobbies – music, painting, photography and poetry.
Olga Haryshyna lives in Kyiv.