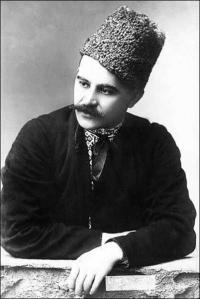 Gnat Martinovich Khotkevich (December 31, 1877 (January 12, 1878) – October 8, 1938) – Ukrainian writer and musician.
G. Kh. was born in a poor middle-class family in Kharkiv. From 1890 to 1894 he studied at the Kharkiv Real School, and then at the Kharkiv Technological Institute, graduating in 1900 with a degree in "railway transport engineer." Already in school, he began to master the bandura, in which he later reached heights.
He worked as a railway worker only until 1905. Due to his participation in the revolutionary demonstrations of 1905 in Kharkiv, he was forced to emigrate to Austro-Hungarian Galicia (early 1906). At that time he lived for a long time in Kryvorivnja in the Hutsul region, he became well acquainted with the language, folklore and life of the Hutsuls. These observations formed the basis of the Hutsul cycle of his works.
In 1912 G. Kh. returned to Kharkiv, where he was arrested, but at the end of the same year he was released without punishment. In Kharkov he was engaged in cultural work. In February 1915, he was forcibly relocated to Voronezh (now the regional center of Russia) as politically unreliable. He returned to Kharkiv after the February Revolution of 1917, where he resumed his cultural and educational work.
After the establishment of Bolshevik rule in Ukraine, G. Kh. taught Ukrainian language and literature at the Zootechnical College in Dergachi (a town 16 km from Kharkiv, 1920-1926), and in 1926-1932 taught a bandura class at the Kharkiv Music and Drama Institute. At the same time, in 1928-1932 he was the artistic director of the Poltava Bandura Band.
Beginning in 1932, the Moscow occupation authorities began persecuting G. Kh., he was dismissed from all positions, and his works were banned. Then, on February 23, 1938, an arrest warrant was issued for G. Kh., who was allegedly a "member of an anti-Soviet Ukrainian nationalist organization." The executioners' appetites grew rapidly, and in a resolution of March 3, 1938, G. Kh. became "a participant in the counter-revolutionary Ukrainian insurgent organizations and agent of German intelligence". The executioners tortured H. Khotkevych, then tortured him again, and tortured him again, and again… As a result, he "confessed" that in 1923 he was recruited as a German spy, was associated with the Ukrainian military organization and "was active in lines of this counter-revolutionary organization."
On September 29, 1938, a special troika (court) of the NKVD Department for the Kharkiv Region decided to shoot G. Khotkevych, which was carried out on October 8, 1938. His house in the village Vysokyi (12 km from the center of Kharkiv), where he and his family had lived since 1929, was confiscated.
G. Kh.'s literary work began in 1897 with the publication of the short story "Georgian" in the Lviv magazine "Zorya". Until 1917, his works were published mainly in Galicia, in particular, in the journal "Literary and Scientific Bulletin", and only a small part of them were published (or reprinted) in the Russian Empire. However, from 1902 his works began to be published in Russian translations, and were also included in the almanacs of selected works of Ukrainian literature.
During the Soviet era, Khotkevych's works were published mainly in Kharkiv, where a collection of works in 8 volumes was published there in 1928-1932. Thid edition remains the largest collection of his works to this day.
G. Khotkevych worked as a prose writer, author of short stories, essays, several short stories and novels. His contribution to drama consists of several full-scale 5-act dramas and a series of one-act sketches. In his small poetic heritage popular in the early 20th cent. poetry in prose are dominated. G. Kh. Also he wrote works for children, translated classics of world literature into Ukrainian, wrote notes on current literary news and popular works on the history of Ukraine. It is said that his literary work consist of 300 positions.
We have contradictory information about such great works of G. Kh. as "Bogdan Khmelnytsky" (whether it is a trilogy, or a tetralogy, a play, or prose), "Shevchenko" (it should be a series of 4 novels, with a total volume of up to 200 authors sheets). These works are considered lost (destroyed?), known only in small fragments.
A significant place in his work is occupied by musicological works, in particular, about his favorite bandura and other folk musical instruments.
G. Kh. wrote about 600 musical works of various genres. Most of them are works for bandura, bandura ensemble, and singing accompanied by a bandura. Almost all of them are forgotten and are not performed today.
On April 24, 1956, G. Kh's sentence was overturned and he was fully rehabilitated. But this did not help Khotkevych anyway. Although 65 years have passed since then, 30 of them in independent Ukraine, his plays have not been staged anywhere in theaters, his screenplays have not been turned into films, his musical works have never been performed, and his writings have been republished in fragments.
In 1995 it was opened with great difficulty G. Khotkevych's in his former house in Vysokyi. In Kharkiv, where he was born and died, where he worked most of his life, not a single room was found for him.
Excessive, no one needs talent…
, which we present, was made in the early 1900s.
M. Zh., September 17 – 21, 2021.