Ivan M. Vahylevych (Sep 02, 1811 – Jun 10, 1866) – Ukrainian poet and folklorist.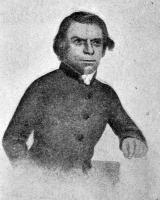 Ivan was born in the family of a priest in the village (now Rozhniativ district of Ivano-Frankivsk region). He studied in the Stanislav school, and then – in the Lviv Theological Seminary, which ended in 1839. Like his fellow in "Rus' three" M. Shashkevych, was ordained a priest (1846) and in 1848 he served in the village (which previously was a priest M. Shashkevych).
In 1848 he voluntarily left the parish and moved to the Lviv, where a short time produced a newspaper «Dnewnyk Ruskij», defended the need for reconciliation Ukrainians with Polish arrogance in Galicia. Ukrainian circles took this as a national betrayal and turned away from him. Consequently Vahylevych switched to Protestantism and worked until his death for Poles.
As an author of poems and poetic translations I. Vahylevych spoke in a period of "Rus' three" in 1830th, but wrote very little. Like his comrades, collecting folk songs. After the publication of the book "Rusalka Dnistrova (Mermaid of Dnister)" (1837) engaged in scientific work in the field of philology, literature, local history. Much of his works, especially the later, written in Polish and hitherto unpublished.
Portrait of I. M. Vahylevych that we provide, published in the book "The works of Markian Shashkevych and Jakiv Golovatsky, with the addition of works by Ivan Vahylevych and Tymko Padura" (Lviv: Education, 1913, p. 336).
The selected bibliography of I. M. Vahylevycha can be viewed on the website "".
M. Zh., February 17, 2015