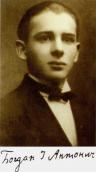 Bogdan-Igor Antonych (October 5, 1909, village Novica, now Gorlica county, Malopolska, Poland – July 6, 1937, Lviv) – Ukrainian poet.
The future poet was born in the family of a priest in the Lemko region – the extreme western area of settlement Ukrainian people. In 1920 – 1928 he studied at the school in Sanok, in 1928 – 1933 years – at the University of Lviv (entirely Polish at that time), specialty "Polish philology."
His first poems were published in 1931 in Lviv, the same year was published his first collection of poems – "Congratulations life." Antonych known primarily as active poet, his works in other genres do not have much value.
Antonych died very young, in the 28th year of life, buried in the Janiv cemetery. His poetic activity lasted six years only…
The main topics of poetry Antonych – nature and man's inner world. We don't find distinct political, social or national motives in his poetry – and this at a time when the whole poetry was permeated politics. Antonych also did not participate in political life, was not a member of any political party, not responded to political events.
But all these did not help him anyway – when Moscow liberators came, all his work came under a total ban. Only in 1966 started to publish collections of his works, in 1987 in the wake of "perestroika" Lviv public raised petitions the need to promote his work.
Now, fortunately, we have complete works B.-I. Antonych (2008), and the legacy of this very original poet was admissible.
M. Zh, July 28, 2013.