Dmytro Dontsov (1883 – 1973) – prominent Ukrainian political thinker. He also worked as a literary critic, journalist, publisher, public and political figure.
Biography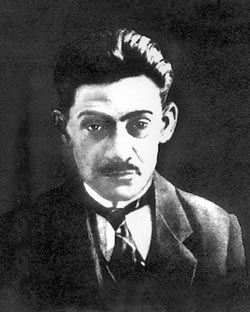 Although Dontsov lived in the relatively recent past, we know very little about he, and what is known, contains many contradictions. We serve the most likely, in our opinion, information, and note that the writing of Dontsov's scientific documented biography is in the future.
D.I. Dontsov born 17 (29) August 1883 in Melitopol. Date 30 August (gregorian style) – the result of an arithmetic error (in the 19th century the difference between the Julian and Gregorian styles was 12 days, not 13 as now). Date 10 September (gregorian style) – the result of confusion, when a date August 29 Gregorian style was adopted by the Julian date style and again "transferred" to the Gregorian style.
His parents – John (patronymic unknown to us) (1840 – 1894) and Yefrosyna Yosyfivna (1856 – 1895) were nobles. The family was quite wealthy, had 1500 hectares of land and business – sales of agricultural machinery in Melitopol.
Dmytro was the middle of five children, his older brother and sister became the Russians, took part in the Russian Social-Democratic movement, while younger brother and sister after Dmytro became Ukrainian. But neither their names nor the dates of life we do not know.
Dmytro graduated from real school in Melitopol and in 1900 moved to Tsarskoe Selo (near Saint Petersburg), where he completed secondary education (we do not know what kind of institution). Later (when it is – unknown), he entered the Faculty of Law of Saint Petersburg University, made friends with the Ukrainian community. Already at that time he was captivated by Lesja Ukrainka, later dedicated a book and several articles to her.
In 1905 – 1907's, he participated in activities of Saint Petersburg group of Ukrainian Social-Democratic Labour Party (USDRP). At fall (approximately October 18th) 1905 Dontsov speech in the Ukrainian political meeting in Saint Petersburg, for that he was arrested and transported to Kyiv to Lukyanivska prison. Released him without trial for a general amnesty. In November 1905 Dontsov went to Saint Petersburg, and in January 1906 he returned to Kyiv and involved in work of USDRP.
In early 1907 Dontsov participate in Saint Petersburg in editing the newspaper "Our council" (organ of the Ukrainian faction of 2nd Duma, there were 2 numbers issued).
In 1907, during his stay in Kiev, Dontsov was arrested again, as a member of the Kyiv Committee USDRP he threatened to 4-year hard labor. After 8 months in Lukyanivska prison he was released on bail (by cares of brother and sister). He illegally went to Galicia. Exact dates of arrest and release remain unknown to us.
12 Apr 1908 Dontsov arrived in the Lviv. In 1908-9 he was treated in Zakopane, where made a closer acquaintance with Mr. V.K.Lipinski.
In 1909 – 1911's he listened four semesters of the Faculty of Law University of Vienna. There in 1909 he met Mary Mykhailivna Bachinsky, which married 27 May 1912. Since 1911 Dontsov lived in Lviv, acted in the Ukrainian press as a publicist.
In 1913 over ideological differences for the national question Dontsov leave the USDRP.
Since the beginning of the 1st World War, the 4 Aug 1914 Dontsov became the head of the newly created Union for the Liberation of Ukraine (ULU, Lviv). Since the Russian authorities, as we have seen, loved to arrest Dontsov and fall into this exciting political game at every opportunity, Dontsov (like other members of the ULU) was forced to move to Vienna before attack Russian troops in Galicia.
At the end of 1914 Dontsov withdrew from the leadership of ULU and with his wife moved to Berlin, where led the Ukrainian Information Service. Work in the field of political information about Ukraine became his principal work for the next 6 years. In Berlin he remained until 1916, for a short time journey to Sweden.
In 1916 he moved to Berne (Switzerland) and headed the Bureau of nationalities in Russia, which was engaged in dissemination of information on relevant issues. At the end of March 1917 Dontsov moved to Lviv, where finally graduated, received a Doctor of Laws at the Lviv University. But as a lawyer he seems never worked.
Sometime in March 1918 (exact date is unknown) Dontsov moved to Kyiv, involved in the work of the Ukrainian Party of Democratic Peasants, on May 24, 1918 headed the Office of Press and Ukrainian telegraph agency at the Hetman government. This party generally supported Hetman coup, but had no strong influence to Skoropadsky.
After the proclamation of federal charter of Hetman (14 Nov 1918) Dontsov considered their relationship with the hetman frustrated. 25 Nov 1918 Dontsov was published an article condemning Hetman's policy, after it he had to hide in Kiev from the Whites, because the initiative in the political game "arrest Dontsov" passed to them. After the liberation of Kyiv Dontsov already had to hide from the Directory. With the aid of E.Konovalets and S. Petliura Dontsov received orders in a diplomatic mission and 13 Jan 1919 left Kyiv to Vienna.
In mid-February 1919 Dontsov moved to Bern, where he led the pressing and Information Department of the Ukrainian representative in Switzerland. After the liquidation of Ukrainian diplomatic missions in February 1921 Dontsov moved to Vienna. In January 1922 he received the permission of the Polish government to move to the Lviv. Here he lived until September 1939.
In Lviv Dontsov (initiated by E. Konovalets) was appointed chief editor of "Literary and Scientific Bulletin" (LNB) – famous Ukrainian magazine, founded in 1898, the output of which was stopped in 1919. Dontsov revived magazine and led it to 1932.
Parallel Dontsov was editor of the magazine "Zagrava" (Glow, 01 Apr 1923 – 1924). On the basis of it he wanted to create a nationalist organization (the Party of People's work – the fourth of a series of political organization in which he participated), but it was failed, and Dontsov left forever attempts of practical politics.
Since the end of the 1932 edition of LNB ceased because of financial difficulties. Dontsov made a courageous decision to continue publishing the magazine as his private enterprise and managed to make it profitable. "Bulletin of literature, politics and science" (or simplified "Bulletin") published in Lviv in 1933 – 1939.
At the end of August 1939 was published 9th issue of "Bulletin" which was the last. 1 Sep 1939, in the first day of German-Polish war (which soon evolved into the second world war) Polish police remembered that it also loves to arrest Dontsov. Poles dispatch him to concentration camp Bereza Kartuska, where he remained until the fall of the Polish state. Coming out of prison, Dontsov through Danzig came to Berlin, where he stayed until the summer of 1940. In Berlin Ukrainian emigrant A. Sevryuk provided to the Gestapo denunciation for "polonoplile Dontsov". Gestapo – against all expectations – did not want to join international competitions of arresting Dontsov. After clarification of the case Dontsov moved to Bucharest, where he lived until mid-1941.
With the beginning of Soviet-German war Dontsov returned to Berlin, then moved to Prague, where he worked in the German research institution with Eastern Europe (the specific name of this institution is unknown to us). At the turn of 1943-44 Dontsov last visited Lviv.
After the end of the 2nd World War Dontsov was in the American zone of occupation in Germany, and then – in Paris (the end of 1945 – a 1st half 1946).
The Bolsheviks made their fresh in the hunting for Dontsov: they recorded him in the list of "war criminals" and tried to arrest him. Dontsov by the fact duting all the war did not made one shot and it seems that all life has never held a rifle in his hands. Instead, he was holding the pen, which under the command of the reasonable head all the time exposed the aggressive, predatory policies of Moscow against Ukraine and the world. But it is not only justified Dontsov in the eyes of Bolsheviks, but rather deeper his guilt.
Fearing extradition in the hands of the Soviets, Dontsov moved to the UK, and in the mean while – to the USA. Since 1947 and up to his death he lived in Canada (exact dates of these moves are not known to us). In 1949 – 1952 Dontsov teached Ukrainian literature at the University of Montreal. During this time he collaborated with numerous Ukrainian publications in the free world, wrote and published many journalistic and literary works, but had no sustained duties. Attempts to establish cooperation with the Organization of Ukrainian nationalists in exile, a project of founding a separate magazine, where Dontsov had to be the editor, failed.
Dontsov died 30 Mar 1973 and was buried in the Ukrainian Cemetery in Bound Brook (USA).
Concept development
Fate judged long life to Dontsov: in the field Ukrainian journalism he worked nearly 65 years. World during that time has changed, and changed views of Dontsov. In general terms there are three stages of his ideological biography.
The first of these was social democratic (until 1913). At this time a young publicist flowing fairway ideological currents of his day, studied and promotes Marx and Engels, and even reveals… "Ukrainian bourgeois nationalists" (by which he understood the proper representatives of the liberal, moderate Ukrainians).
The second stage – nationalist – began in 1913 and lasted until 1939 sometime (relatively speaking, by the end of "Bulletin"). In 1913 Dontsov abruptly shift the wheel of his fate, articulate speech (later printed as booklet) for the independence of Ukraine. In the works of this period (which is the most fruitful and important in Dontsov's life) decisive driving force of the historical process serves not class struggle, but nationalism, inflexible will of the nation into being and fulfillment.
The third phase, for which it is difficult to find a clear outline (it can be called mystical) lasted somewhere from 1939 until his death of Dontsov. Without denying openly basis announced in the previous period, Dontsov increasingly began to pay attention to the problems of spiritual development, seeing the progress of the spirit the source of social and political change.
But throughout the life of our Ukrainian Machiavelli its leading star was an independent Ukrainian state and fighting against Russia as the main enemy of our independence.
During his long life Dontsov was familiar with the wide set of Ukrainian political, civic and cultural leaders, had among them many passionate supporters and more – bitter enemies. His journalistic style has never ruled out a passionate rebuke of their ideological opponents, exposing their personal transgressions. His opponents nonnative answered him the same weapon. In our view, this personal controversy is already the past, and it must be treated as an experienced fact.
We, of course, far from being able to expose or debunk Dontsov with very same words of Dontsov. We are equally far from believing that his works are being a Tablet, which fell on us from heaven and which we must blindly worship, not trying to make littlest change. The purpose of our web reedition of Dontsov's works – to provide material for independent thinking, self-resolving, what from written by him is now fit and healthy, and what belongs to the historical experience of the nation or to the personal opinions of the author.
Iconography
Iconography of Dontsov still not exist – as if the author comes to the olden times, not a contemporary of our fathers. We publish one photo of Dontsov that roam the Internet, knowing neither the date nor the circumstances of its appearance. Compilation and systematization of reliable, documented portrait images of Dontsov belongs to the tasks of our biographical studies.
Bibliography
Bibliography of Dontsov is in embryonic state. The author does not seem very concerned about the complete list of his works (as we saw above, he changed not less than 30 places of residence – such was the fate of each fighter against Moscow's imperialism). On the cover of their brochures he placed lists of other his works, mainly those that pudlished as separate editions.
M. Sosnowski, in his book "Dontsov. Political Portrait" (1974) has listed 73 titles of periodicals in which Dontsov published articles. But for most of these periodicals, we can not name any specific article by Dontsov. So bibliographing his articles in periodicals – in the future.
We know that in 1958 P.Shtepa issued a "Bibliography of works by Dmytro Dontsov", but we don't have thiw work, and we had not used it.
Please be aware that Dontsov used such kryptonims and pseudonyms: Dm.D., M.L., O.V., R.O., Dm. Chornyj, Zakopanets, D. Varnak, Dmytro Svirid, Svit, V. Temlyak. It is possible that there were other pseudonyms.
The Bolsheviks always hated Dontsov fiercely and systematically, they destroyed and banned his works everywhere where only reached their criminal power. It is recognized that the effect of such systematic 70-years persecution in Ukraine practically don't preserved copies of original publications by Dontsov, and his works are still little known. Reprints and other editions of his works in independent Ukraine were few, not systematic and have little copies. The case of systematic (and the more scientific, academic) edition of Dontsov's papers belongs to the future goals of our science.
The following chronological list of works Dontsov reflects the dire state of preservation of his heritage. In some cases, in square brackets, we present the differences (sometimes very divergent) data for the publication of certain articles. We note also all known to us reprints and translations of one work, combining them into one nest under the date of first publication.
One shoud know that most part of Dontsov's works were published in Ukrainian language; only few were published in German and English. We make english translations of titles as a guide; the original titles placed in ukrainian version of our article.
Most important books
The bases of our policy. – Vienna: Dontsov's Publishing, 1921. – 210 p.
(Lesja Ukrainka). – Lviv: Dontsov's Publishing, 1922. – 35 p.
Nationalism. – Lviv-Zhovkva: printing oo. Basilian, 1926.
2 ed.: Munich: 1958.
3 ed., corrected by the author: London: Ukrainian Publishing Association, Toronto: League of liberation of Ukraine, 1966 – 363 p.
The spirit of our ancient. – Prague, 1944; Munich: 1951. – 342 p.
Longing for the heroic: literary figures of Ukraine. – London: 1953 – 160 p.
Year 1918 – Kyiv. – Toronto: Echo Ukraine, 1954 – 128 p.; Kyiv: Tempora, 2002 – 207 p.
Unseen Tablets of Kobzar (Shevchenko). – Toronto: Echo Ukraine, 1961. – 231 p.
More extended (but not complete) bibliography – in a separate document.
Principles of edition
We make our web edition mainly after original books and brochures of Dontsov. For such of them we place reproduction of cover or title page. In some cases, having in the hands no those originals, we have used reprints that published in Ukraine in 1990–2000's. All text we present for the modern Ukrainian spelling, leaving some writing, which we consider characteristic for Dontsov. Geographical and personal names are spelled as used in modern Ukrainian language. In comments we present very short data on a person or event (for more data use "Wikipedia").
M.Zh.