Olga Yulianivna Kobylyanska (November 27, 1869 – March 21, 1942) – Ukrainian writer, author of prose works.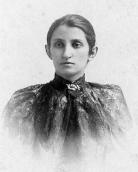 Olga was born in the town Guragumora in Bukovina (at that time – Bukovina as part of Austria-Hungary, now – Suceava County, Romania), where her father was a petty government official. She was the fourth child in the family (she had five brothers and a sister).
In 1875 the family moved to another Bukovinian town – Kimpolung (also in Suceava County), where she entered a German primary school. She graduated from the 4th grade of this school and continued her self-education.
Under the influence of friends from Galicia (Sofia Okunevska, Natalia Kobrynska), Olga realized her belonging to Ukraine, studied the Ukrainian language, literature, history.
She wrote her first story (in German) at the age of 11. After several attempts at German works, Olga began writing in Ukrainian.
In 1891 Olga and her family moved to Chernivtsi, where she lived all her life. In 1899 she met Lesja Ukrainka – first in writing, and in August 1899, after visiting the archeological congress in Kyiv, she stayed with Lesja Ukrainka in the farm Zelenyi Gaj near Gadyach (Poltava region, Ukraine). In May-June 1901, Lesja Ukrainka visited Olga Kobylyanska in Chernivtsi and Kimpolung. Their warm friendship lasted until the end of Lesja Ukrainka's life.
The area of Olga Kobylyanska's life observations, from which she drew material for her works, was Bukovyna with its characteristic clash of Ukrainian, German, Polish, even Gypsy and Romanian origins. In her novels, stories, short stories, she developed two cross-cutting themes. The first is the fate of an intelligent woman in the transition from a patriarchal society to a society where women can play an independent role. The second is the existence of the Ukrainian peasantry in characteristic circumstances peculiar only to Bukovina.
A separate tape in her work covered the theme of the First World War, in the tragic vortex of which Ukrainians on the Austro-Hungarian side were forced to fight against Ukrainians on the Russian side.
In general, the work of Olga Kobylyanska, as a prominent master of impressionism, is a precious pearl in the achievements of Ukrainian literature.
However, it should be noted: we still do not have what is not academic, but some complete collection of her works. Her correspondence, diary, and memoirs about the writer have not been collected and published. Therefore, there is no basis for writing her biography, including a creative biography, for a detailed definition of her place in our culture.
The photo portrait of Olga Kobylyanska, which we present, was made in July 1894 – in full bloom of her 25-year-old beauty and energy (taken from ).
M. Zh., November 22, 2020.