Ivan Karpenko-Kary – literary and stage name of Ivan Karpovich Tobilevich (17 (29) September 1845 – 2 (15) September 1907), Ukrainian playwright and actor.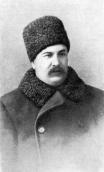 Ivan was born in the village Arsenivka (now – Bobrynets district of Kirovograd region) in a family of small nobleman. He had a younger sister Maria (Maria Sadovska-Barliotti, 1855 – 1891), brothers Nicholas (Nicholas Sadovski, 1856 – 1933) and Athanasius (Panas Saksagansky, 1859 – 1940), whose entire life, as Ivan himself was linked theater.
In 1853 – 1859 years Ivan studied at the county school in the Bobrinets, and he had no luck to get more education. From 1859 to 1883 he served in various administrative institutions of Kherson province. October 4, 1883 for his political unreliability he dismissed from the Secretary Elisavetgrad city police and by decision of 23 March 1884, he was placed under explicit police surveillance on period of three years. In fact, there was exile, that writer served in Novocherkassk (now – the Rostov region of Russia).
After liberation from exile in 1887 Ivan moved to (near the village Nikolaevka Kirovograd district and region), where he lived until his death. However, taking part in the theater companies of his brothers, he often traveled on tour.
Died Ivan Karpenko-Kary in Berlin, where he treated his severe illness. He was buried near his farm Nadija.
For literary activity Karpenko-Kary addressed later (1883), after leaving the civil service, at the age of 38 years. Very quickly he found himself as a playwright and his first plays are marked by a high level of skill.
The main theme of his plays – contemporary life of the Ukrainian people. His characters – poor and wealthy farmers, small rural and city officials, small gentry, Jews (merchants, innkeepers, middlemen). Dramatic conficts between them Karpenko-Kary solved both satirical, comedic vein and in dire dramatic, even tragic one.
Some interesting and spectacular tragedies Karpenko-Kary dedicated to the history of the Ukrainian people Cossack era.
At the end of the life playwright intended to create a trilogy about the life of an artist, theater activist. He managed to write only two plays – "Vanity" (1903) and "Worldly sea" (1904)…
Plays Ivan Karpenko-Kary – with bright form, rich content, deep humanistic idea – deserved gold reserves of Ukrainian theater.
M. Zh., 31 October 2016.