General Report
Reporting period
The site was started 7.12.2002, from 13.01.2003 it switched to a permanent mode of operation. We present our report for the period 1.01.2004 – 31.12.2004. Against quantitative indicators in parentheses are submitted data from 2003.
Site size
| | | |
| --- | --- | --- |
| Date | Number of Files | volume, MB |
| 31/12/2003 | 790 | 23 |
| 1.05.2004 | 922 | 24 |
| 31/12/2004 | 1900 | 37.4 |
Site visits
The root page of the site visited by 5247 readers (as shows the counter at the root page). Average time it is more than 14 visits per day. During the previous period – 2705 / 7 correspondingly.
The total visits count was 80828 (27142), or almost 16 times more (visit we consider a series of document requests from the same IP-address during a calendar day). Average it is 221.4 (69.7) visits per day. This ratio means that the majority of readers fall directly to the requested documents, avoiding the root page of the site.
Site visited by 54213 (13226) hosts (unique IP-addresses). We had 617 (163) regular readers – each of them asked for a year at least 100 files. 36 most active readers asked for more than 1000 files each. The top active of our reader was a search engine ": it asked us 24453 files.
Site process 790 (188) thousand files requests, or 2166 (483) files per day. This resulted in a total volume of 7184 (2585) MB of transferred data, or 19.7 (6.5) MB per day.
Site availability
The site of all time worked in a mode 24 hours / 7 days a week. For a quality hosting special thanks to a company ", which provides hosting our site.
Speed of downloading documents from our website always has been high.
Site dynamics

General site dynamics (monthly data for 2004)
This chart shows three great periods: horizontal flight (January – May 2004), seasonal decline (June – August 2004) set a new high (September – December 2004).

Daily data for December 2004
Daily data fluctuated within 300 (150) – 500 (250) visits per day until December 25, when Ukraine is annually observed massive inflow population in hibernation.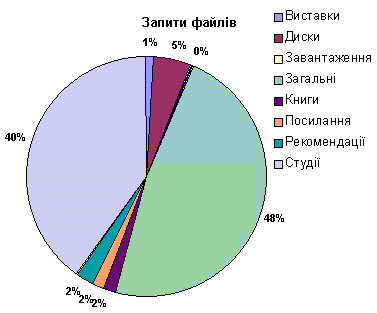 Percentage of different groups of files in the total mass of the requested files
Here we see that in 2004 increased the percent of "Studies" – 40% against 32 in 2003, which generally can be considered as natural, because "Studies" is the most dynamic in this year.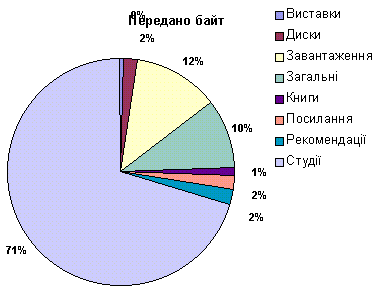 Percentage of different groups of files in total volume of transferred data
In traffic the percent of "Studies" also increased to 71% against 60 in 2003, mostly by the reduction of "Download", which dropped from 25% to 12.
Download
Recall that our site was created for promotion of programs developed by us – a universal hierarchical database "Myslene drevo"; its free distribution is available for downloading from the site. Therefore, success in downloading our distributions we pleased.
File
downloading
in 2004 (2003), the
Total
Distribution "Myslene drevo" 2.2
131 (104)
235
Myslene drevo 1.0 source code
96 (50)
146
Universal CD shell
0 (5)
5
As of January 1, 2005 as a distribution MD 2.2 and MD 1.0 source code are no longer available (they are replaced with newer versions), the results in this table should be regarded as the final outcome of these products loading for two years.
10 most popular documents on the site
Report on the "Studio"
Available in ukrainian version only.
We welcome all of our authors with success and invite them and other scientists to publish their works on our site If you have any suggestions – mail to us.