General Report
Reporting period
The site was started 7.12.2002, from 13.01.2003 it switched to a permanent mode of operation. We present our report for the period 1.01.2007 – 31.12.2007. Against quantitative indicators in parentheses are submitted data from 2006.
Site size
| | | |
| --- | --- | --- |
| Date | Number of Files | volume, MB |
| 31/12/2006 | 5869 | 43.6 |
| 31/12/2007 | 3547 | 61.2 |
Site visits
The root page of the site was visited by 19,205 readers (as shows the counter at the root page). Average it is 54 visits per day. During the previous year – 14831 / 40.
The total visits count was 492903 (204668), or almost 26 times more (visit we consider a series of document requests from the same IP-address during a calendar day). Average it is 1350.4 (560.7) visits per day. This ratio means that the majority of readers fall directly to the requested documents, avoiding the root page of the site.
Site visited by 145565 (86720) hosts (unique IP-addresses).
Site process 5.06 (2.58) million files requests, or 13 thousand (7 thousand) files per day. This resulted in a total volume of 58.95 (23.47) GB of data transferred, or 161.5 (64.3) MB per day.
Site efficiency was calculated as number of HTML documents requested by a visitor. It amounted to 2.71 this year.
Our success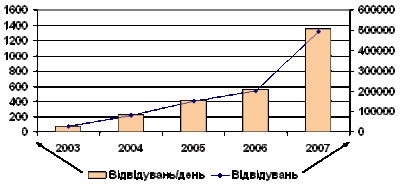 Site dynamics for 2003 – 2007 (on the left axis: visits per day; on the right axis: total visits).
From this chart you can see that overall in 2007 brought us many visits as the previous four years combined.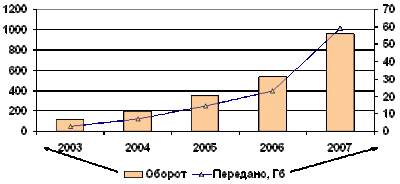 Dynamics of volumes for 2003 – 2007 (on th left axis: turnover; on the right axis: year traffic, Gb)
The turnover of the site on this diagram was calculated as total annual traffic divided by the site size. So it shows how many times by year entire site was readed.
Site availability
The site of all time worked in a mode 24 hours / 7 days a week. For a quality hosting special thanks to a company "", which provides hosting our site.
Site dynamics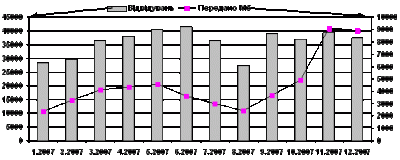 General site dynamics (monthly data for 2007)
Compare this chart with the same chart for 2006 shows only the difference that the autumn increase attendance was relatively small and did not exceed the June peak.
Download
Recall that our site was created for promotion of programs developed by us – a universal hierarchical database "Myslene drevo"; its free distribution is available for downloading from the site. Therefore, success in uploading our distributions we pleased.
File
downloading
in 2007
Total
Distribution "Myslene drevo" 2.5
457
966
Myslene drevo 2.2 source code
154
244
At the end of 2006 we placed a new, more compact distribution "Myslene drevo". This positively affected the program distribution.
10 most popular documents on the site
List of the leaders again as in 2006, radically upgraded. Only two documents from the top list-2006 retain in the list-2007. The main factor of change was rapid growth in popularity of our publication of Lesja Ukrainka.
Ctrl + Enter!
In 2007 we introduced online computer game Ctrl + Enter, encouraging readers point us to typographical errors in our documents. We obtain 172 comments, 68 considered appropriate (by which made the correction) and 104 – were false. It does not take into account those errors that we noticed and fixed independently, without participation of readers. Percentage of valid observations – 40%). In general, should recognize that the computer game improves the quality of the texts of the site.
Report on th Studies section
Available in ukrainian version only.
We welcome all of our authors with success and invite them and other scientists to publish their works on our site If you have any suggestions – mail to us.