Project Report "Encyclopedia of life and work of Lesia Ukrainka"
General Report
Reporting period
The site was started 7.12.2002, from 13.01.2003 it switched to a permanent mode of operation. We present our report for the period 1.01.2008 – 31.12.2008 Against quantitative indicators in parentheses are submitted data from 2007.
Site size
| | | |
| --- | --- | --- |
| Date | Number of files | volume, MB |
| 31/12/2008 | 4326 | 79.7 |
| 31/12/2007 | 3547 | 61.2 |
Site visits
The root page of the site was visited by 19855 readers (as shows the counter at the root page). Average it makes 54.4 visits per day. During the previous period – under 19205 / 52.
The total visits count was 473 144 (448 831), or almost 24 times more (visit we consider a series of document requests from the same IP-address during a calendar day). Average it is 1296.2 (1229.7) visits per day. This ratio means that the majority of readers fall directly to the requested documents, avoiding the root page of the site.
Site visited by 196611 (145565) hosts (unique IP-addresses). We had 11128 (6785) regular readers – each of them asked for a year at least 100 files. 764 (338) most active readers asked for more than 1000 files each.
Site process 8.8 (5.06) million files requests, or 24 thousand (13 thousand) files per day. This resulted in a total volume of 116 (58.95) GB of transferred data, or 317 (161.5) MB per day.
Site efficiency was calculated as number of HTML documents requested by a visitor. It equaled this year as 3 (2.71).
Our success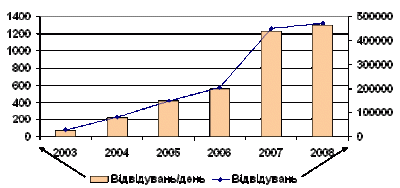 Site dynamics for 2003 – 2008 (on the left axis: visits per day; on the right axis: total visits).
From this chart one can see that overall in 2008 can be estimated as a dynamic stagnation: there is a certain height, but to acheve 1 million visits per year we still need work.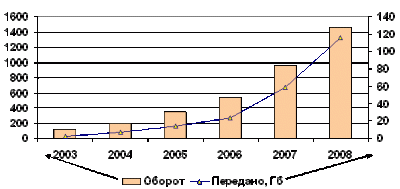 Dynamics of volumes for 2003 – 2008 (on th left axis: turnover; on the right axis: year traffic, Gb)
The turnover of the site on this diagram was calculated as total annual traffic divided by the site size. So it shows how many times by year entire site was readed. One can state that in 2008, site traffic increased by offering free access to large HTML documents (including content encyclopedic guide "Ukraine 13 – 18 centuries").
Site availability
The site of all time worked in a mode 24 hours / 7 days a week. For a quality hosting special thanks to a company "", which provides hosting our site.
Site dynamics

General site dynamics (monthly data for 2008)
Compare this chart with similar charts for previous years shows a dramatic decline in summer traffic. This crisis was not meeted up to the end of the year. We have no assumptions about the reasons for this decline.
Download
Recall that our site was created for promotion of programs developed by us – a universal hierarchical database "Myslene drevo"; its free distribution is available for downloading from the site. Therefore, success in downloading our distributions we pleased.
File
downloading
in 2007
Total
Distribution "Myslene drevo" 2.5
424
1390
Myslene drevo 2.2 source code
127
371
10 most popular documents on the site
Ctrl + Enter!
In 2007 we introduced online computer game Ctrl + Enter, encouraging readers point us to typographical errors in our documents. In 2008, the game continued. In 2008 we obtain 449 (172) comments, 170 (68) of which considered appropriate (by which made the correction) and 279 (104) – false. It does not take into account those errors that we noticed and fixed independently, without participation of readers. In general, should recognize that the computer game improves the quality of the texts of the site.
Report on th Studies section
Available in ukrainian version only.
We welcome all of our authors with success and invite them and other scientists to publish their works on our site If you have any suggestions – mail to us.