General Report
Reporting period
The site was started 7.12.2002, from 13.01.2003 it switched to a permanent mode of operation. We present our report for the period 1.01.2005 – 31.12.2005. Against quantitative indicators in parentheses are submitted data from 2004.
Site size
| | | |
| --- | --- | --- |
| Date | Number of Files | volume, MB |
| 31/12/2004 | 1900 | 37.4 |
| 31/12/2005 | 2145 | 41.3 |
Site visits
The root page of the site visited by 11013 readers (as shows the counter at the root page). Average time it is more than 30 visits per day. During the previous period – 5247 / 14 correspondingly.
The total visits count was 150174 (80828), or almost 14 times more (visit we consider a series of document requests from the same IP-address during a calendar day). Average it is 411.4 (221.4) visits per day. This ratio means that the majority of readers fall directly to the requested documents, avoiding the root page of the site.
Site visited by 59257 (54213) hosts (unique IP-addresses). We had 1865 (617) regular readers – each of them asked for a year at least 100 files. 120 (36) most active readers asked for more than 1000 files each.
Site process 1 544 (790) thousand files requests, or 4232 (2166) files per day. This resulted in a total volume of 14 242 (7184) MB of transferred data, or 39.0 (19.7) MB per day.
Site availability
The site of all time worked in a mode 24 hours / 7 days a week. For a quality hosting special thanks to a company ", which provides hosting our site.
Speed of downloading documents from our website always has been high.
Site dynamics
General site dynamics (monthly data for 2005)
Compare this chart with the same chart for 2004 shows that the regime of the site attendance generally stabilized: spring and autumn rises followed by August and Christmas slowdown.

Daily data for November 2005
Daily data fluctuated within 350 (300) – 700 (500) visits per day.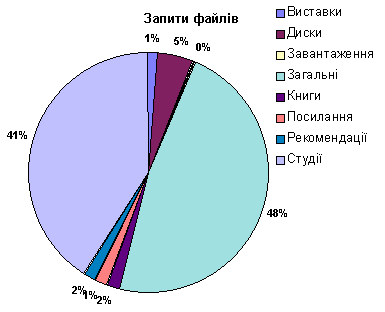 Percentage of different groups of files in the total mass of the requested files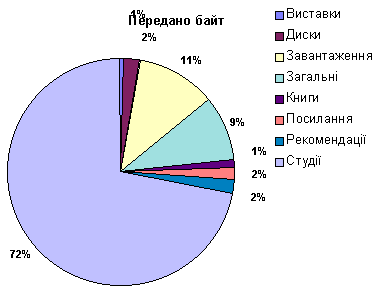 Percentage of different groups of files in total volume of transferred data
Comparing these figures with the corresponding chart of 2004 shows that the changes do not exceed 1%, confirming the conclusion of the stabilization of the site attendance.
Download
Recall that our site was created for promotion of programs developed by us – a universal hierarchical database "Myslene drevo"; its free distribution is available for downloading from the site. Therefore, success in downloading our distributions we pleased.
File
downloading
in 2005
Total
Distribution "Myslene drevo" 2.5
296
296
Myslene drevo 2.2 source code
57
57
We can not say that the new (really perfect) version of "Myslene drevo" aroused strong interest of users, but it have not forgotten. In 2005 we finally began to receive comments and suggestions from users of the program. In particular, we ask, how to activate the page "Details". We ourselves would like to know the secret, otherwise have to wait out 3.0 version, which provides full functionality to this page.
10 most popular documents on the site
The leader page changed in this year. In 2005, the first time the existence of the whole site page "Myslene drevo databases" ahead for the attendance of page "Links". The second major change – in the top 10 pages list included "Download distributions", which in 2004 was on 18th place.
Report on the "Studio"
Available in ukrainian version only.
We welcome all of our authors with success and invite them and other scientists to publish their works on our site If you have any suggestions – mail to us.