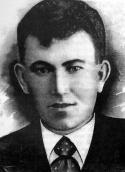 Gerasim Sokolenko (1920 – 1945) – a little-known Ukrainian poet. In 2008, Vladimir Fedotov gave a book about Sokolenko (prepared him) for web publishing for website "Myslene drevo", for which we make him a great gratitude. Submitted materials forms the basis of our knowledge about Sokolenko.
© Vladimir Fedotov, composition, introduction, notes, 2008
© Rostislav Dotsenko, preface, 2008
© Ann Cherin, "Rescued lines", 2008
Many thanks to all who helped. Special thanks to Tetjana Gorbach for valuable consideration to work.
Articles
Vladimir Fedotov Volyn Martin Eden: some touches to the portrait
Rostislav Dotsenko Poetry – for life and death
Verses
Autumn
1. "Dressed in gold garments…\"
"The night is friendly, gentle night…"
Ballad (1st edition)
Ballad (2nd edition)
To mother ("Arrive on horseback at night… ")
From the series "Blue stars"
"He fall shoot through breast…"
To Shevchenko ("Prometheus of ukrainian people…")
From the "Blue poems"
"I remember the autumn of crans…"
"The chestnuts make a noise ovet the way…"
Spring ("The bog cranberry blossom")
"Off the garden, past the house…"
From the book "Golden lakes"
Lake ("In heaven, where clouds with white feathers…")
"Albatross blossom at the top…" (1st edition)
"With Strauss waltz in the garden…"
"Someone patting the meadow grass…"
"Someone threw a stone from the oak…"
"On the slope of the mountain – herbs…"
Mother ("Fire dawns rises…")
Spring ("Spring comes – and the wire…")
"Blue eyes under silk eyelashes…"
"Winds moor to the mountains…"
To Shevchenko ("Your words like lightning lights…)
Letters
Contexts
Vsevolod Vyshnevy Something about albums
Vsevolod Vyshnevy And this happens
Alexander Karuchok Life
Ulas Samchuk Memories
J. P. In memory of a young poet
Leonid Poltava Gerasim Sokolenko – unknown famous ukrainian poet
Anna Cherin Rescued lines
From a letter by Michael Ivanchenko
Images
Children in Mykhlja village (1)
Children in Mykhlja village (2)
Autograph of letter by Gerasim Sokolenko
Gerasim Sokolenko. Self-portrait
Autograph of the verses by Gerasim Sokolenko
Cover of the Gerasim Sokolenko's book
Barbara Shmyhelska in the field